Bachelor of Arts in Sustainability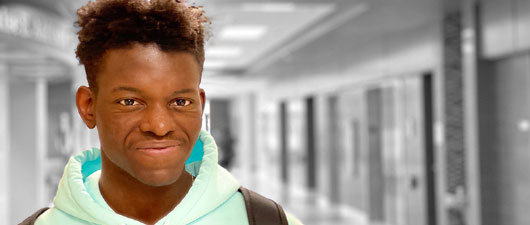 Pictured | Josh Chijioke | Sustainability Studies / Minor in Environmental Studies | Port Harcourt, Nigeria (hometown)
Volunteer Activity | Robinson Learning Community Center (after school tutor)
---
Bachelor of Arts in Sustainability
Make more than a living. Make a difference. The future is bright for students of sustainability studies. Employers today need people with the knowledge and skills to help them meet the challenge of balancing people, planet and prosperity. Our programs will teach you how to leverage sustainability and innovation to take advantage of the opportunities presented by the fast emerging green economy; And, they have been carefully designed to offer you a seamless classroom to career pathway.
---
Academic Advising
College policy on advising requires that students meet with their academic advisors at least once each year, and in some departments, prior to each semester's enrollment. Advising holds are placed on all College of Liberal Arts and Sciences (CLAS) students prior to advance registration and are released following advising appointments. Students with a declared major are advised in their academic units. To determine who your advisor is and how to contact them, see One.IU.
---
Degree Requirements (120 cr.)
Students receiving the Bachelor of Arts (B.A.) degree must complete 120 total credit hours including:
Required Minor taken in any campus school or interdisciplinary program (15-18 cr.)
Major Requirements (33 cr.)
Electives (balance of credits needed to equal 120 cr. requirement)
---
A minimum of 30 credit hours at the 300– or 400–level.
Major and minor requirements must be completed with a grade of C– or higher.
All courses are 3 credit hours, unless otherwise noted.
---
Major Requirements (33 cr.)
Introduction (3 cr.)
SUST-S 201 Foundations of Sustainability
---
Sustainability Core Courses (12 cr.)
SOC-B 399 Human Behavior and Social Institutions
VT: Sustainable Communities
SUST-B 399 Human Behavior and Social Institutions
VT: Just Food: Sustainable Food Systems
VT: Icelandic Land Ethics
SUST-S 360 Topics in Sustainability Studies
VT: Sustainable Urban Agriculture
VT: Good Work
VT: Sustainability, Health, and Wellness
VT: Urban Landscapes and Biodiversity
VT: Tools for Measuring Sustainability
SUST-S 361 Sustainability Abroad (1-6 cr.)
SUST-S 411 Sustainability, Innovation, and Entrepreneurship
SUST-S 460 Strategies for Transformative Leadership and Community Engagement
SUST-S 491 Internship in Sustainability
SUST-S 495 Directed Readings in Sustainability (1-3 cr.)
SUST-S 496 Research in Sustainability (1-3 cr.)
---
Scientific Foundations of Sustainability (3 cr.)
Select one from the following:
BIOL-L 101 Introduction to Biological Sciences 1 (5 cr.)
(2 cr. count towards Elective)
BIOL-N 390 The Natural World
VT: Environmental Science


Biology majors can substitute BIOL-L 473 Ecology and BIOL-L 474 Field and Laboratory Ecology (2 cr.)

CHEM-N 190 The Natural World
VT: Chemistry and Our Environment
GEOL-G 111 Physical Geology
GEOL-G 210 Oceanography
GEOL-G 219 Meteorology
GEOL-G 451 Principles of Hydrogeology
GEOL-N 190 The Natural World
VT: Geology of the National Parks
VT: Weather Forecasting and Analysis
GEOL-N 390 The Natural World
VT: Natural Hazard and Disasters
PHYS-N 190 The Natural World
VT: Energy in the 21st Century
PLSC-B 101 Plant Biology (5 cr.)
---
Social, Cultural, and Economic Foundations of Sustainability (3 cr.)
Select one from the following:
ANTH-B 399 Human Behavior and Social Institutions
VT: Environmental Anthropology
BUS-B 399 Business and Society
GEOG-B 190 Human Behavior and Social Institutions
VT: Introducing Globalization
GEOG-G 338 Geographic Information Science
HIST-T 190 Literary and Intellectual Traditions
VT: Humans and the Environment
HPER-N 220 Nutrition for Health
HSC-H 331 Environmental Health
HSC-H 412 Global Health
LSTU-L 390 Topics in Labor Studies
VT: Jobs and the Environment
PHIL-P 383 Topics in Philosophy
VT: Philosophical Topics in Evolution
PHIL-T 390 Literary and Intellectual Traditions
VT: Environmental Philosophy
POLS-Y 115 Environment and the People
PSY-B 190 Human Behavior and Social Institutions
VT: Social Justice
SOC-B 399 Human Behavior and Social Institutions
VT: Sustainable Communities
VT: Costa Rica

(Crosslisted with SOC-S 362)


VT: Belize 

(Crosslisted with SOC-S 362)


VT: Consumerism in the Globalized World
SOC-S 306 Urban Society
SOC-S 362 World Societies and Cultures
VT: Belize
SOC-S 410 Advanced Topics in Social Organization
VT: Consumer Culture and Climate Change
VT: Environmental Sociology
SOC-S 460 Topics in Non-Western Cultures
VT: International Inequalities
SUST-B 190 The Sustainable Future
WGS-T 390 Literary and Intellectual Traditions
VT: Women and Sustainability
---
Capstone (3 cr.)
Select one from the following:
SUST-S 490 Sustainability Practicum
SUST-S 491 Internship in Sustainability
---
Electives (9 cr.)
9 credit hours of Sustainability course electives that count towards the major to reach 33 credits. May be chosen from any of the above listed categories