Bachelor of Arts in German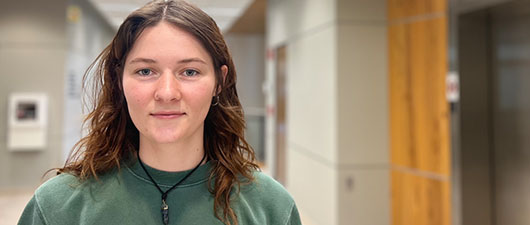 Pictured | Areonna Oberle | Bachelor of Arts in German; Minor in Earth and Space Science | Bremen, Indiana (hometown)
Club Affiliation | German Club (president)
---
Bachelor of Arts in German
A degree in German provides IU South Bend students with the tools to become a true international citizen in a multi-cultural, multi-lingual global community. The German Program promotes proficiency in the German language, knowledge of Germanic cultures and literatures, and the students' active engagement in cultural and linguistic exchanges.
---
Academic Advising
College policy on advising requires that students meet with their academic advisors at least once each year, and in some departments, prior to each semester's to enrollment. Advising holds are placed on all College of Liberal Arts and Sciences (CLAS) students prior to advance registration and are released following advising appointments. Students with a declared major are advised in their academic units. To determine who your advisor is and how to contact them, see One.IU.
---
Degree Requirements (120 cr.)
Students receiving the Bachelor of Arts (BA) degree must complete 120 total credit hours including:
---
With the exception of GER-T 390, electives must be taught in German unless approved by the department chair.A minimum of 30 credit hours at the 300‐ or 400–level.
Courses required for the major and minor must be completed with a grade of C– or higher.
A minimum CGPA of 2.0 is required.
All courses are 3 credit hours, unless otherwise noted.
---
Major Requirements (31 cr.)
GER-G 203 Second Year German 1
GER-G 204 Second Year German 2
GER-G 313 Writing German 1
GER-G 495 Individual Readings in Germanic Literature (1 cr.)
Seven courses at or above the 300-level; three of which must be at the 400-level (21 cr.)
---
Electives 
Balance of credits needed to equal 120 cr. requirement
GER-G 300 Fifth-Semester College German
GER-G 305 Introduction to German Literature: Types
GER-G 306 Introduction to German Literature: Themes
GER-G 307 Selected Works of Contemporary German Literature
GER-G 310 Deutsch: Mittelstufe II
GER-G 314 Writing German 2
GER-G 363 Introduction to German Cultural History
GER-G 370 German Cinema
GER-G 396 German Language Abroad
GER-G 464 German Culture and Society
GER-G 465 Structure of German
GER-G 495 Individual Readings in Germanic Literature