Bachelor of Arts in Sociology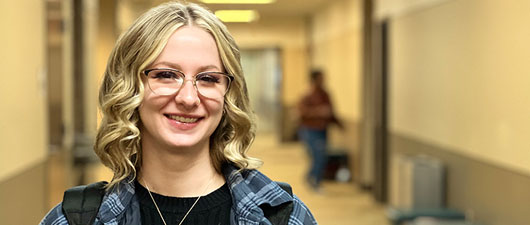 Pictured | Sarah Lane | Bachelor of Arts in Sociology | Mishawaka, Indiana (hometown)
---
Bachelor of Arts in Sociology
The sociology major is intended to introduce students to the intellectual and methodological perspectives and practices in the discipline. The program is designed to prepare students for immediate entry into the workplace or to pursue further study in a master's or PhD program.
---
Academic Advising
College policy on advising requires that students meet with their academic advisors at least once each year, and in some departments, prior to each semester's to enrollment. Advising holds are placed on all College of Liberal Arts and Sciences (CLAS) students prior to advance registration and are released following advising appointments.Students with a declared major are advised in their academic units. To determine who your advisor is and how to contact them, see One.IU.
---
Degree Requirements (120 cr.)
All courses are 3 credits unless otherwise noted.
Students receiving the Bachelor of Arts degree must complete 120 total credit hours including:
---
A minimum of 30 credit hours at the 300– or 400–level
The Required Minor (15-18 cr.) taken in any campus school or interdisciplinary program. Courses required for the minor must be completed with a grade of C- or higher.
All courses are 3 credit hours, unless otherwise noted.
---
Major Requirements (21 cr.)
Note | Students majoring in Sociology who take SOC-S 351 Social Statistics, SOC-R 498 Sociology Capstone Seminar, and/or 400–level seminar or Internship courses while enrolled at IU South Bend, must take these courses with the IU South Bend Sociology and Anthropology Department. Courses offered online by other IU campuses will not meet these requirements.
SOC-S 161 Principles of Sociology
SOC-S 204 Sociological Imagination
SOC-S 340 Social Theory
SOC-S 351 Social Statistics
SOC-S 370 Research Methods in Sociology
Select two of the following:
SOC-S 410 Advanced Topics in Social Organization
SOC-S 422 Constructing Sexuality
SOC-S 460 Topics in Non-Western Cultures
SOC-S 494 Field Experience in Sociology
---
Elective Requirements (12 cr.)
12 credits in Sociology (no more than three credits at the 100– or 200–level)