Bachelor of Science in Mathematics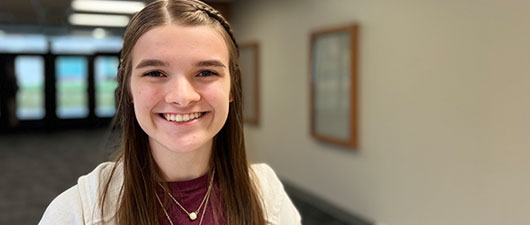 Pictured | Emilee Edmonds | Bachelor of Science in Mathematics; Bachelor of Science in Physics | Goshen, Indiana (hometown)
Honors Program | Intern
Club Affiliation | Physics Club (co-president)

---
Bachelor of Science in Mathematics
The Bachelor of Science (BS) in Mathematics provides students with a comprehensive education in the mathematical sciences. The quantitative curriculum prepares students to solve complex and real world problems and comprehend mathematical concepts. 
There are two tracks for the BS in Mathematics
The Applied Mathematics track prepares students for positions in industries, government, and postgraduate education in applied mathematics, statistics, or any related field.
The Pure Mathematics track prepares students for postgraduate education in pure mathematics.
---
Academic Advising
College policy on advising requires that students meet with their academic advisors at least once each year, and in some departments, prior to each semester's enrollment. Advising holds are placed on all College of Liberal Arts and Sciences (CLAS) students prior to advance registration and are released following advising appointments. Students with a declared major are advised in their academic units. To determine who your advisor is and how to contact them, see One.IU.
---
Degree Requirements (120 cr.)
Students receiving the Bachelor of Science degree in Mathematics must complete 120 total credit hours including
Mathematics courses


Fulfills Fundamental Literacies: Quantitative Reasoning requirement

MATH-N 390 The Natural World


Fulfills Common Core: The Natural World requirement

CSCI-C 101 Computer Programming I (4 cr.)


Fulfills Extended Literacies: Computer Literacy requirement
---
Minimum of 30 credit hours at the 300– or 400–level.
Courses required for the major must be completed with a grade of C– or higher.
A minimum CGPA of 2.0 is required.
All courses are 3 credit hours, unless otherwise designated.
---
Major Requirements (35 cr.)
MATH-M 215 Calculus I (5 cr.)
MATH-M 216 Calculus II (5 cr.)
MATH-M 301 Linear Algebra and Applications
MATH-M 311 Calculus 3 
MATH-M 312 Calculus 4 
MATH-M 343 Introduction to Differential Equations with Applications I
MATH-M 391 Introduction to Mathematical Reasoning
MATH-M 413 Introduction to Analysis 1
MATH-M 463 Introduction to Probability Theory 1 (3-4 cr.)
MATH-N 390 The Natural World


Fulfills Common Core: The Natural World requirement
---
Applied Track (18 cr.)
Mathematics courses required for the Applied Track (9 cr.)
MATH-M 447 Mathematical Models and Applications 1
MATH-M 466 Introduction to Mathematical Statistics
MATH-M 471 Numerical Analysis 1
Applied Track Mathematics Electives (9 cr.)
Select three additional courses from those listed below or an upper-division or graduate course approved by the department chair
MATH-M 344 Introduction to Differential Equations with Applications II
MATH-M 448 Mathematical Models and Applications 2
MATH-M 451 The Mathematics of Finance
MATH-M 472 Numerical Analysis 2
MATH-M 400/500 levels or STAT-S 400/500 levels offered by the IU South Bend Department of Mathematical Sciences
MATH-T 336 Topics in Euclidean Geometry
---
Pure Track (18 cr.)
Mathematics courses required for the Pure Track (9 cr.)
MATH-M 403 Introduction to Modern Algebra 1
Select one from the following
MATH-M 404 Introduction to Modern Algebra 2
MATH-M 405 Number Theory
MATH-M 409 Linear Transformation
Select one from the following
MATH-M 414 Introduction to Analysis 2
MATH-M 415 Elementary Complex Variable
MATH-M 420 Metric Space Topology
Pure Track Mathematics Electives (9 cr.)
Select three additional courses from those listed below or an upper-division or graduate course approved by the department chair
MATH-M 344 Introduction to Differential Equations with Applications II
MATH-M 427 Combinatorics
MATH-M 435 Introduction to Differential Geometry
MATH-M 436 Introduction to Geometries
MATH-M 400 level course offered by IU South Bend and approved by the Department Chair
MATH-M 500 level course offered by IU South Bend and approved by the Department Chair
MATH-T 336 Topics in Euclidean Geometry
---
Cognate Discipline Courses (10-12 cr.)
Complete one of the following sequences in Biology, Chemistry, Computer Science, Economics, or Physics
Biology (10 cr.)
BIOL-L 101 Introduction to Biological Science I (5 cr.)
BIOL-L 102 Introduction to Biological Sciences (5 cr.)
Chemistry (10 cr.)
CHEM-C 105 Principles of Chemistry I
CHEM-C 106 Principles of Chemistry II
CHEM-C 125 Experimental Chemistry I (2 cr.)
CHEM-C 126 Experimental Chemistry II (2 cr.)
Computer Science (10 cr.)
CSCI-C 151 Multiuser Operating Systems (2 cr.)
CSCI-C 201 Computer Programming II (4 cr.)
CSCI-C 243 Introduction to Data Structures (4 cr.)
Economics (12 cr.)
ECON-E 103 Introduction to Microeconomics
ECON-E 104 Introduction to Macroeconomics
ECON-E 321 Intermediate Microeconomic Theory
ECON-E 322 Intermediate Macroeconomic Theory
Physics (10 cr.)
PHYS-P 221 Physics 1 (5 cr.)
PHYS-P 222 Physics 2 (5 cr.)