Bachelor of Arts in Sustainability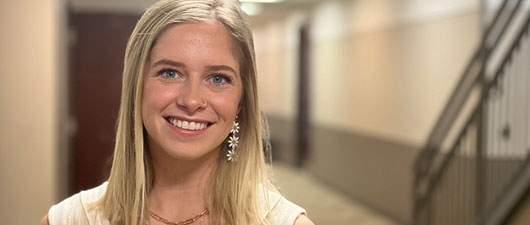 Pictured | Cori Jones | Bachelor of Arts in Sustainability Studies / Minor in Geography| Bremen, Indiana (hometown)
---
Bachelor of Arts in Sustainability
Sustainability is generally characterized as meeting the needs of the present without compromising the ability of future generations to meet their own needs. The Sustainability Studies Program offers in-person and online BA degrees as well as a minor. In these, students study the trans-disciplinary foundations of sustainability and learn how to apply the knowledge they acquire to the development and implementation of sustainable values, innovations, practices, technologies, and policies. Going beyond the traditional classroom, the Sustainability Studies curriculum includes civic engagement and experiential, project-based, and service learning, thus preparing students to lead the way in the creation of a sustainable future while preparing them for the new jobs of the emerging green economy.
---
Academic Advising
College policy on advising requires that students meet with their academic advisors at least once each year, and in some departments, prior to each semester's enrollment. Advising holds are placed on all College of Liberal Arts and Sciences (CLAS) students prior to advance registration and are released following advising appointments. Students with a declared major are advised in their academic units. To determine who your advisor is and how to contact them, see One.IU.
---
Degree Requirements (120 cr.)
Students receiving the Bachelor of Arts (B.A.) degree must complete 120 total credit hours including:
---
A minimum of 30 credit hours at the 300– or 400–level.
Major and minor requirements must be completed with a grade of C– or higher.
All courses are 3 credit hours, unless otherwise noted.
---
Major Requirements (33 cr.)
Introduction (3 cr.)
SUST-S 201 Foundations of Sustainability
---
Sustainability Core Courses (12 cr.)
Select 12 credits from the following:
SOC-B 399 Human Behavior and Social Institutions
VT: Sustainable Communities
SUST-B 399 Human Behavior and Social Institutions
VT: Just Food: Sustainable Food Systems
VT: Icelandic Land Ethics
SUST-S 310 Systems Thinking for Sustainability
SUST-S 360 Topics in Sustainability Studies
VT: Sustainable Urban Agriculture
VT: Good Work
VT: Sustainability, Health, and Wellness
VT: Urban Landscapes and Biodiversity
VT: Tools for Measuring Sustainability
VT: Environmental Justice
VT: Art and Sustainability
SUST-S 361 Sustainability Abroad (1-6 cr.)
SUST-S 411 Sustainability, Innovation, and Entrepreneurship
SUST-S 460 Strategies for Transformative Leadership and Community Engagement
SUST-S 491 Internship in Sustainability
SUST-S 495 Directed Readings in Sustainability (1-3 cr.)
SUST-S 496 Research in Sustainability (1-3 cr.)
---
Skills for Sustainability (3 cr.)
In consultation with your advisor, select one course from the following:
Computing
BUS-K 201 The Computer in Business
CSCI-B 100 Problem Solving Using Computers (4 cr.)
INFO-I 101 Introduction to Informatics (4 cr.)
Economics
ECON-E 103 Introduction to Microeconomics
ECON-E 104 Introduction to Macroeconomics
Geographic Information Systems
GEOG-G 338 Geographic Information Systems
Social Science Research Methodology
SOC-S 370 Research Methods in Sociology
Statistics
BIOL-L 337 Introduction to Biostatistics 
ECON-E 270 Introduction to Statistical Theory in Economics and Business
MATH-K 310 Statistical Techniques
PSY-P 354 Statistical Analysis in Psychology
SOC-S 351 Social Statistics
Writing
ENG-W 231 Professional Writing Skills
ENG-W 232 Introduction to Business Writing
ENG-W 234 Technical Report Writing
ENG-W 270 Argumentative Writing
ENG-W 315 Writing for the Web
ENG-W 319 Grant Writing
ENG-W 367 Writing for Multiple Media
---
Electives (12 cr.)
Select 12 credits from the following:
ANTH-B 399 Human Behavior and Social Institutions
VT: Environmental Anthropology
BIOL-L 101 Introduction to Biological Sciences 1 (5 cr.)
(2 cr. count towards Elective)
BIOL-N 390 The Natural World
VT: Environmental Science


Biology majors can substitute BIOL-L 473 Ecology and BIOL-L 474 Field and Laboratory Ecology (2 cr.)

BUS-B 399 Business and Society
CHEM-N 190 The Natural World
VT: Chemistry and Our Environment
GEOG-B 190 Human Behavior and Social Institutions
VT: Introducing Globalization
GEOG-G 213 Introduction to Economic Geography
GEOG-G 338 Geographic Information Science
GEOL-G 111 Physical Geology
GEOL-G 210 Oceanography
GEOL-G 219 Meteorology
GEOL-G 451 Principles of Hydrogeology
GEOL-N 190 The Natural World
VT: Geology of the National Parks
VT: Weather Forecasting and Analysis
GEOL-N 390 The Natural World
VT: Natural Hazard and Disasters
HIST-T 190 Literary and Intellectual Traditions
VT: Humans and the Environment
HPER-N 220 Nutrition for Health
HSC-H 331 Environmental Health
HSC-H 412 Global Health
LSTU-L 390 Topics in Labor Studies
VT: Jobs and the Environment
PHIL-P 383 Topics in Philosophy
VT: Philosophical Topics in Evolution
PHIL-T 390 Literary and Intellectual Traditions
VT: Environmental Philosophy
PHYS-N 190 The Natural World
VT: Energy in the 21st Century
PLSC-B 101 Plant Biology (5 cr.)
POLS-Y 115 Environment and the People
PSY-B 190 Human Behavior and Social Institutions
VT: Social Justice
SOC-B 399 Human Behavior and Social Institutions
VT: Sustainable Communities
VT: Costa Rica

(Crosslisted with SOC-S 362)


VT: Belize 

(Crosslisted with SOC-S 362)


VT: Consumer Society and the Environment
SOC-S 306 Urban Society
SOC-S 362 World Societies and Cultures
VT: Belize
SOC-S 410 Advanced Topics in Social Organization
VT: Consumer Culture and Climate Change
VT: Environmental Sociology
SOC-S 460 Topics in Non-Western Cultures
VT: International Inequalities
SUST-B 190 The Sustainable Future
WGS-T 390 Literary and Intellectual Traditions
VT: Women and Sustainability
---
Capstone (3 cr.)
SUST-S 490 Sustainability Practicum