Minor in Anthropology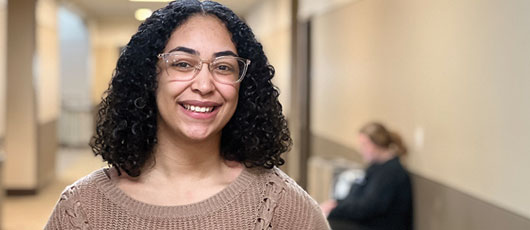 Pictured | Tansesia Jackson | Bachelor of Arts in Anthropology / Minor in African American Studies | South Bend, Indiana (hometown)
---
Minor in Anthropology
It is strongly suggested that interested students declare a minor in Anthropology before the completion of the third course in the discipline. To declare or to seek academic advising in the program, students should visit the department office at Wiekamp 2288.
---
Requirements (15 cr.)
All courses are 3 credit hours, unless otherwise designated.
ANTH-E 105 Culture and Society
ANTH-N 190 The Natural World
VT: Becoming Human
Select one of the following:
ANTH-B 300 Fundamentals of Bioanthropology
ANTH-E 304 Fundamentals of Sociocultural Anthropology
ANTH-L 300 Culture and Language
ANTH-P 304 Fundamentals of Archaeological Anthropology
Select one of the following:
ANTH-A 360 Development of Anthropological Thought
ANTH-A 370 Research Methods in Anthropology
ANTH-P 405 Field Work in Archaeology (3-8 cr.)
SOC-S 351 Social Statistics
One additional anthropology course at the 300– or 400–level.