Minor in Philosophy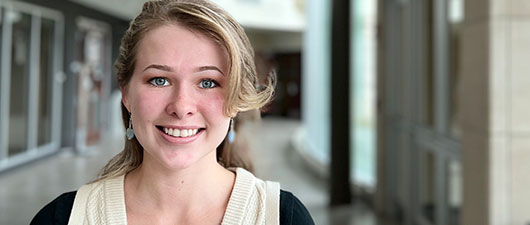 Pictured | Danielle Schwenk | Bachelor of Science in Advertising and Marketing / Minor in Philosophy | Knox Bend, Indiana (hometown)
Student Government Association | Associate Justice
Club Affiliation | Advertising Club, Marketing Club
---
Minor in Philosophy  (15 cr.)
Students can earn a Minor in Philosophy by completion of at least 15 credit hours in Philosophy.
---
Minor Requirements (15 cr.)
History of Philosophy (3 cr.)
PHIL-P 201 Ancient Greek Philosophy
PHIL-P 214 Modern Philosophy
---
Select courses from two of the following areas (6 cr.)
Logic and the History and Philosophy of Science
HPSC-X 200 Scientific Reasoning
HPSC-X 220 Issues in Science: Humanistic
HPSC-X 303 Introduction to Philosophy of Science
HPSC-X 336 Religion and Science
PHIL-P 250 Introductory Symbolic Logic
Value Theory
PHIL-P 325 Social Philosophy
PHIL-P 340 Classics in Ethics
PHIL-P 341 Ethical Classics 2
PHIL-P 342 Problems of Ethics
PHIL-P 343 Classics in Social and Political Philosophy
PHIL-P 344 Classics in Social and Political Philosophy 2
PHIL-P 345 Problems in Social and Political Philosophy
Metaphysics and Epistemology
PHIL-P 310 Topics in Metaphysics
PHIL-P 312 Topics in Theory of Knowledge
PHIL-P 313 Theories of Knowledge
PHIL-P 360 Introduction to Philosophy of Mind
PHIL-P 366 Philosophy of Action
PHIL-T 390 Literary and Intellectual Traditions
VT: God, Space, and Time
---
Electives (6 cr.)
Two additional classes in Philosophy (one or both can be at the introductory level).