Bachelor of Science in Medical Imaging Technology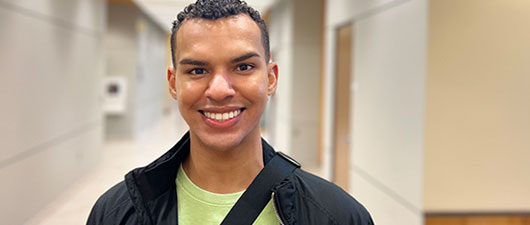 Pictured | Keyshawn Foree | Bachelor of Science in Medical Imaging Technology | South Bend, Indiana (hometown)
---
Bachelor of Science in Medical Imaging Technology
Collaborative Online Degree
This 100 percent online, consortial program is taught by IU South Bend, IUPUI, IU Kokomo, and IU Northwest. This consortial model allows you to take coursework from several campuses and learn from a wide range of faculty.
This program is authorized, exempt, or not subject to state regulatory compliance and may enroll students from all 50 states.
Many online support services are available to assist you as you progress through the program.
---
The Bachelor of Science in Medical Imaging Technology is for working professionals who are already certified in Radiography (ARRT), Nuclear Medicine (ARRT or NMTCB), Diagnostic Medical Sonography (ARRT or ARDMS), or Radiation Therapy (ARRT).  
If you are not certified in one of these areas, you are not eligible to apply.To become certified, you must complete prescribed educational requirements at a two– or four–year college and pass a national professional certification exam.
If you are not eligible for the Bachelor of Science in Medical Imaging Technology (BSMIT), we invite you to explore options such as our Bachelor of Science in Applied Health Science or Bachelor of Science in Health Sciences.
As a BSMIT student, you will gain knowledge and skills in medical imaging technology principles and procedures, anatomy and pathology, and research practices. The program complements your technical certification and prepares you to communicate effectively, think critically, and apply problem-solving skills in the healthcare environment so that you can pursue opportunities in healthcare leadership roles, healthcare education, research, and graduate school. 
The program may be completed on a full- or part-time basis.  
---
Medical Imaging Technology Program Outcomes
The Bachelor of Science in Medical Imaging Technology program seeks to:
Develop the professional's ability to function as an active member of the healthcare team.
Graduate professionals who demonstrate effective communication skills.
Graduate professionals who demonstrate critical thiking and problem-solving skills.
Graduate professonals who demonstrate professional and ethical behaviors.
Foster independent thinking and lifelong learning.
Medical Imaging Technology Course Outcomes
You will gain knowledge and skills in the following core areas:
Medical Imaging Technology Principles (3 cr.)

Learn the history of the medical imaging profession
Master basic imaging principles for a variety of imaging modalities

Medical Imaging Technology Procedures (3 cr.)

Compare and contrast the various modalities in terms of radiation sources, uses, and safety.
Apply medical imaging concepts and principles to analyze new uses and procedures.

Anatomy and Pathology (6 cr.)

Explain the different disease states that are seen or treated within the field of radiology.
Determine which radiologic procedures are used in the diagnosis and treatment of various disease states.
Analyze how physicians use patient data and images for use in patient case management.
Identify anatomical structures of the human body.
Describe relationships of structures to one another.
Discuss the different appearance of anatomy from one modality to another.

Research in Medical Imaging Technology (6 cr.)

Demonstrate computer skills needed to perform a literature search.
Formulate a research question.
Research a selected topic.
Use a variety of multimedia tools to produce images for presentations and posters.
Disseminate scientific information in a professional-quality poster and research paper.
IInvestigate the basic tenets of human-subjects research.

Medical Imaging Technology Nonclinical Concentration (12 cr.)
Students with both a primary and post-primary certification (i.e., RT and CT) are eligible for up to 12 special credit hours. Special credit hours cannot be used toward the 30 in-residence IU hours.
Students must complete 12 hours of elective coursework. Students may develop their own tracks with the consent of their program faculty.
---
Admissions
Admissions requirements vary by campus.
---
Degree Requirements (120 cr.)
To graduate with the BS in Medical Imaging Technology, you must complete a total of 120 semester credit hours, including
---
Complete at least 30 credit hours through Indiana University.
Complete at least 30 credit hours at the 300– and 400–level.
Maintain a minimum GPA of 2.0, and achieve a minimum grade of C in each required course.
---
Core Courses (30 cr.)
RADI-R 451 Medical Imaging Theory I;

OR


RADS-R 405 Advanced Diagnostic Imaging I
RADI-R 453 Medical Imaging Theory II;

OR


RADS-R 406 Advanced Diagnostic Imaging II 
AHLT-R 404 Sectional Imaging Anatomy;

OR


RADI-R 404 Multiplanar Anatomy for Medical Imaging Technology;

OR


RADS-R 404 Sectional Imaging Anatomy
AHLT-R 414 Sectional Imaging Pathology;

OR


RADI-R 452 Medical Imaging Applications;

OR


RADS-R 414 Sectional Imaging Pathology
Research (6 cr.)
Select one of the following two options:
Option 1: Archival and Human Subject Research
RADI-R 456 Medical Imaging Technology Project I 
RADI-R 457 Medical Imaging Technology Project II 
Option 2: Advanced Study and Applied Research in Medical Imaging
RADS-R 408 Topics in Radiologic Sciences
AHLT-R 409 Project in Medical Imaging;

OR


AHLT-R 409 Senior Project in Medical Imaging Technology;

OR


RADS-R 409 Project in Medical Imaging
---
Non-Clinical Electives (12 cr.)
Any 300– or 400–level courses