Bachelor of Science in Actuarial Science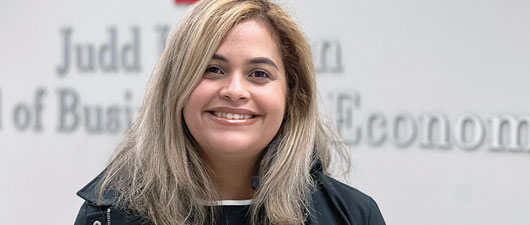 Pictured | Emily Lopez Soliveras | Bachelor of Science in Accounting (online) | Humacao, Puerto Rico (hometown)
---
Chancellor's Bachelor of Science in Accounting
Collaborative Online Degree
This 100 percent online, consortial program is taught by IU South Bend, IU East, IU Kokomo, IU Northwest, and IU Southeast. This consortial model allows you to take coursework from several campuses and learn from a wide range of faculty.
This program is authorized, exempt, or not subject to state regulatory compliance and may enroll students from all 50 states.
Many online support services are available to assist you as you progress through the program.
Program Description
The IU collaborative online Bachelor of Science in Accounting will provide students with an engaging and flexible program that prepares graduates to enter the accounting profession. The learner-focused program offers an innovative curriculum including a new business analytics course as well as several opportunities for students to professionally prepare for their future. These professional development activities include, but are not limited to, a capstone e-portfolio project, mock interview and internship opportunities, and attendance at professional accounting networking events.
This program is intended to serve students interested in joining the accounting profession immediately following degree completion as well as those students who plan to continue onto graduate school and complete the qualification standards as set by each state to sit for their respective CPA or CMA exams.
This degree will work for a broad spectrum of students including undergraduates, working adults, degree completers, transfer students, among others. Employment trends in the accounting industry indicate strong and sustained demand for applicants who hold a BS in Accounting.
For students interested in pursuing a career in accounting, this degree will fulfill the course requirements to sit for the Uniform Certified Public Accounting (CPA) Exam as well as the Certified Management Accounting (CMA) Exam, but it will not satisfy the 150-credit hour requirement set by most states, including Indiana and Ohio. In most cases, students who complete the 120-credit hour IU collaborative BS in Accounting will need to complete an additional 30 credit hours of applicable coursework to meet national and state minimums. These credits are most often completed as a part of a graduate study in MS Accounting, MBA, and related degree programs.
To earn the Chancellors' Bachelor of Science in Accounting, students must complete the standard campus- and school-specific degree requirements, including general education, of their campus of enrollment, and the 66 credit hours in the accounting major.
---
Admissions
Admissions requirements vary by campus.
---
Degree Requirements (120 cr.)
To graduate with the Bachelor of Science in Accounting, you must complete a minimum of 120 credit hours. You may be able to transfer up to 60 credit hours from a regionally accredited two-year college and up to 90 credit hours from a regionally accredited four-year college or university.
Fundamental Literacies (12 cr.)
Writing | ENG-W 131 Reading Writing and Inquiry*
Quantitative Reasoning | MATH-M 118 Finite Mathematics*
Oral Communication | SPCH-S 121 Public Speaking
Critical Thinking | See Schedule of Classes for course options
Common Core (12 cr.)
Art, Aesthetics, and Creativity | One A-190 course from ENG, FINA, MUS, or THTR
Human Behavior and Social Institutions | BUS-B 399 *
Literary and Intellectual Traditions | One T-190 course from CMLT, ENG, HIST, MUS, PHIL, or THTR
The Natural World | One N-190 course from ANTH, AST, BIOL, CHEM, GEOL, or PHYS
Contemporary Social Values (6 cr.)
Global Cultures | See Schedule of Classes for course options
Diversity in United States Society | See Schedule of Classes for course options
Extended Literacies (3 cr.)
Computer Literacy | BUS-K 201 *
Additional General Education Requirements (0 cr.)
Information Literacy | Tagged Course
First Year Seminar | Tagged Course
---
All courses are 3 credit hours, unless otherwise stateds
Courses in the Major Requirement require a grade of "C" or higher (a C- does not fulfill this requirement).
The Bachelor of Science in Accounting online degree requires a cumulative GPA of 2.0 or higher.
---
Basic Business Foundation (24 cr.)
BUS-A 201 Introduction to Financial Accounting 
BUS-A 202 Introduction to Managerial Accounting 
BUS-B 190 Principles of Business Administration
BUS-L 201 Legal Environment of Business 
ECON-E 103 Introduction to Microeconomics
ECON-E 104 Introduction to Macroeconomics
ECON-E 270 Introduction to Statistical Theory in Economics and Business
ENG-W 232 Introduction to Business Writing
---
Business Core (21 cr.)
BUS-D 300 International Business: Operations of International Enterprises
BUS-F 301 Financial Management 
BUS-K 321 Management of Information Technology
BUS-K 353 Business Analytics and Modeling
BUS-M 301 Introduction to Marketing Management 
BUS-P 301 Operations Management 
BUS-Z 302 Managing and Behavior in Organizations 
---
Accounting Core (18 cr.)
BUS-A 311 Intermediate Accounting I 
BUS-A 312 Intermediate Accounting II 
BUS-A 325 Cost Accounting 
BUS-A 328 Introduction to Taxation 
BUS-A 337 Computer-Based Accounting Systems; OR
BUS-A 411 Accounting Information Systems
BUS-A 424 Auditing and Assurance Services
---
Accounting Electives (9 cr.)
Select three from the following:
BUS-A 335 Accounting for Government and Not-for-Profit Entities 
BUS-A 338 Accounting Data Analytics 
BUS-A 339 Advanced Income Taxation 
BUS-A 414 Financial Statement Analysis and Modeling
BUS-A 422 Advanced Financial Accounting 
BUS-A 437 Advanced Management Accounting