Educational Leadership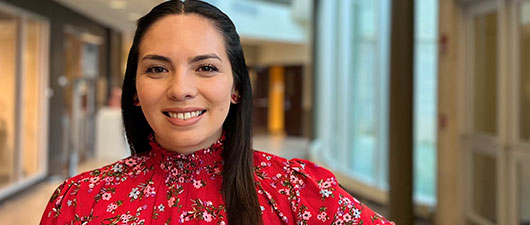 Pictured | Sandra Lozano Leon | Master of Science in Education, Educational Leadership | Bachelor of Science in Education, Secondary Education, Purdue University Northwest, 2018 | East Chicago, Indiana (hometown)
Teaching Position | Harrison Elementary School
Volunteer Activity | Middle school soccer coach
---
Master of Science in Education (Educational Leadership)
---
About the Program
The Master of Science in Education in Educational Leadership is a 33-credit hour program that prepares individuals to be effective leaders within today's educational environment. The program provides candidates with guidance and mentorship while completing transformative clinical experiences and opportunities. The program leads to a license in Building Level Administration.
Graduates of the Educational Leadership Program promote success within schools, districts, and communities by demonstrating principal-centered leadership characteristics:
Leaders who are lifelong learners
Leaders who are service oriented
Leaders who radiate positive energy
Leaders who believe in others
Leaders who rely on creative thinking
Leaders who create synergistic moments
Leaders who act with integrity
Candidates in the program are required to complete field experiences, including one internship. This provides significant opportunities to synthesize and apply the knowledge and skills acquired in courses within real settings.
---
Admission Procedures
For further information regarding admission procedures, please see the School of Education Graduate Degrees page.
---
Prerequisite Coursework
The candidate must hold a Bachelor of Science in Education degree or a Master of Science in Education degree from an accredited institution and have a cumulative grade point average (CGPA) of 3.0 or better (on a 4-point scale) or specific GRE scores if the CGPA is between 2.5 and 2.999.
---
Curriculum (33 cr.)
All courses are 3 credit hours, unless otherwise designated.
Note | Students must graduate with a cumulative GPA of 3.0 in order to receive an Master of Science in Education from IU South Bend
---
Degree Requirements (27 cr.)
EDUC-A 500 Introduction to Education Leadership
EDUC-A 510 School Community Relations
EDUC-A 515 Educational Leadership: Teacher Development and Evaluation
EDUC-A 560 Political Perspective of Education 
EDUC-A 608 Legal Perspectives on Education
EDUC-A 625 Administration of Elementary Schools
EDUC-A 627 Secondary School Administration
EDUC-A 629 Data-Informed Decision-Making for School Leaders
EDUC-A 630 Economic Dimensions of Education
---
Field-Based Requirements (6 cr.)
EDUC-A 590 Independent Study in Educational Leadership (repeat three 1-cr. classes)
VT: Research in School Administration
EDUC-A 695 Practicum in Educational Leadership