P-12 Building Level Administrator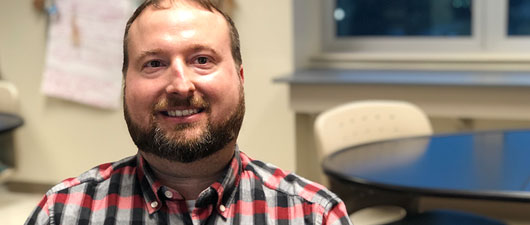 Pictured | Jason Zook | School Administrator Teaching Certificate Program | New Carlisle, Indiana (hometown)
---
P-12 Building Level Administrator Licensure Program
Individuals with a Master of Science in Education from an accredited institution may earned their principal's license by completing the Graduate Licensure Program in P-12 Building Level Administrator. As principals, graduates of the Educational Leadership Program promote the success of every student by:
Facilitating the development, articulation, implementation, and stewardship of a school or district vision of learning supported by the school community.
Advocating, nurturing, and sustaining a school culture and instructional program conducive to student learning and staff professional growth.
Ensuring management of the organization, operation, and resources for a safe, efficient, and effective learning environment.
Collaborating with faculty and community members, responding to diverse community interests and needs, and mobilizing community resources.
Acting with integrity, fairness, and in an ethical manner.
Understanding, responding to, and influencing the political, social, economic, legal, and cultural context.
Recruiting, hiring, assigning, retaining, and supporting effective teachers.
---
Prerequisite Required
Candidates for the certification must hold a Master of Science in Education degree from an accredited institution.
---
Requirements (27 cr.)
All courses are 3 credit hours unless otherwise stated
EDUC-A 500 Introduction to Educational Leadership
EDUC-A 510 School Community Relations
EDUC-A 515 Educational Leadership: Teacher Development and Evaluation
EDUC-A 608 Legal Perspectives on Education
EDUC-A 625 Administration of Elementary Schools
EDUC-A 627 Secondary School Administration
EDUC-A 629 Data-Informed Decision Making for School Leaders
EDUC-A 630 Economic Dimensions of Education
EDUC-A 695 Practicum in Educational Leadership