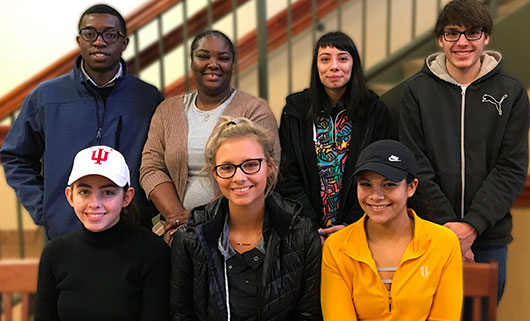 Pictured (top to bottom; left to right)
Wisdom Chigwada | Social Work | Elkhart, Indiana (hometown)
Adrienne Michelle Robinson | Women's and Gender Studies | Elkhart, Indiana (hometown)
Alexandria Alert | Art Education | Elkhart, Indiana (hometown)
Reagan BonDurant | Computer Science | Elkhart, Indiana (hometown)
Breanne Friskney | German | Elkhart, Indiana (hometown)
Cortnee Coffin | Early Childhood Education | Elkhart, Indiana (hometown)
Kaylin Szucs | Radiography | Elkhart, Indiana (hometown)
---
IU South Bend Elkhart Center
Doug McMillen, Ph.D. | Director
125 East Franklin Street | Elkhart, Indiana 46516
(800) 321-7834 or (574) 294-5550
elkhart@iusb.edu | elkhart.iusb.edu
---
About the IU South Bend Elkhart Center
The IU South Bend Elkhart Center, built with private donations, is the home for graduate health science education programs, including the Master of Science in Nursing and the Master of Science in Speech-Language Pathology (starting fall 2022). These programs reflect a continued partnership between the community and IU South Bend to serve the mission to educate students and to meet the health care needs of our region. The Elkhart Center is equipped with state of the art equipment and modern classrooms including audiology and therapy laboratory spaces. These spaces have also been designed to permit further graduate therapy programs to be housed in the center.
The Elkhart Center also offers first-year general education courses to serve students from the Elkhart community and greater Michiana area. In addition to flexible classroom learning spaces, the center has a student technology center and a student lounge/computer mini-laboratory. Specific information about classes offered at the Elkhart Center can be found online at elkhart.iusb.edu and on the IU South Bend registrar's web page.
The following services and programs are available at the IU South Bend Elkhart Center:
Customized training for business and industry
Professional development courses
Admissions counseling for prospective students
Math tutoring, and other student support services
Financial aid and scholarship information
Assistance with registration and schedule adjustments
Onsite security during building hours
---
SmartStart Program
By taking 24 or more credit hours at the Elkhart Center, students are considered a SmartStart student. The personal attention and instruction received from faculty and staff as a full-time Elkhart Center student will provide students with a solid foundation upon which to build their IU degree. Students should work with their academic advisor to plan their course schedule. Students who successfully complete the SmartStart Program are encouraged to apply for the Verizon Scholarship, which provides tuition assistance for future course work at IU South Bend.
---
Scholarships
Several scholarship opportunities are available exclusively for students attending IU classes in Elkhart or for IU South Bend students who live in Elkhart County. For scholarship information, email scholar1@iusb.edu.
---
Photo credit | Kerry K. Lawson