Accreditation

Pictured :: Michaela Kapala :: Biology :: Edwardsburg, Michigan (hometown)
---
Accreditation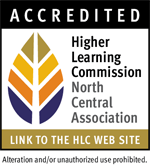 IU South Bend is accredited for its undergraduate and graduate programs by the Higher Learning Commission and is a member of the North Central Association (NCA), 230 S. LaSalle Street, Suite 7-500, Chicago, Illinois 60604, (800) 621-7440.
The Higher Learning Commission is a voluntary certification agency made up of member institutions in 19 states. Its credentials are accepted on an equal basis by similar agencies in other parts of the United States and in foreign countries.
The following academic programs are additionally accredited by national agencies and organizations pertinent to their respective disciplines:
---
The School of Business and Economics is accredited by AACSB International—The Association to Advance Collegiate Schools of Business, 777 S. Harbour Island Boulevard, Suite 750, Tampa, Florida 33602-5730, (813) 769-6500.
---
The School of Education is accredited by the National Council for Accreditation of Teacher Education (NCATE), 2010 Massachusetts Avenue N.W., Suite 500, Washington, D.C. 20036-1018, (202) 466-7496. The Indiana Department of Education has approved all IU South Bend teacher education programs. The next accreditation visit will be in fall 2019 through the Council for the Accreditation of Educator Preparation (CAEP).
The Counseling and Human Services programs are accredited by the Council for Accreditation of Counseling and Related Educational Programs (CACREP). 1001 North Fairfax Street, Suite 510. Alexander, VA 22314 (704) 535 5990.
---
Dental Hygiene Program :: The IU South Bend Dental Hygiene program is accredited by the American Dental Association Commission on Dental Accreditation (CODA), 211 E. Chicago Avenue, Chicago, Illinois 60611-2678, (312) 440-2500.
School of Nursing :: The baccalaureate and master's programs at Indiana University South Bend are accredited by the Commission on Collegiate Nursing Education, One Dupont Circle, NW, Suite 530, Washington, DC, 20036, (202) 887-6791. The Commission on Collegiate Nursing Education, a national agency for the accreditation of baccalaureate and graduate-degree nursing education programs, accredited Indiana University South Bend, School of Nursing through 2020 for the undergraduate program and 2015 for the graduate program.
Radiography Program :: The Radiography Program is accredited by the Joint Review Committee on Education in Radiologic Technology (JRCERT), 20 N. Wacker Drive, Suite 2850, Chicago, Illinois 60606-3182, (312) 704-5300.
School of Social Work :: The School of Social Work and the Master of Social Work are accredited by the Council on Social Work Education (CSWE), 1701 Duke Street, Suite 200, Alexandria, Virginia 22314, (703) 683-8080.
---
Department of Chemistry and Biochemistry :: The Bachelor of Science degree in chemistry is accredited by the American Chemical Society (ACS), 1155 Sixteenth Street N.W., Washington, D.C. 20036-4800, (800) 227-5558.
Master of Public Affairs :: The Master of Public Affairs is accredited by the National Association of Schools of Public Affairs and Administration (NASPAA), 1029 Vermont Avenue N.W., Suite 1100, Washington, D.C. 20005, (202) 628-8965.
---
Photo credit :: Sebastien Wiertz via Flickr :: cc