Dental Clinic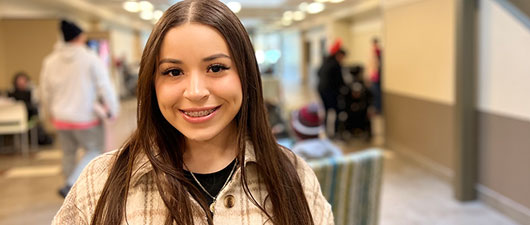 Pictured | Alejandra Montoya-Rubalcava | Bachelor of Science in Dental Hygiene | Syracuse, Indiana (hometown)
Honors Program
21st Century Scholar
Volunteer Activity | Mentor Collective Program
Club Affliation | Latino Student Union
---
Dental Clinic
---
About the Dental Clinic
The Dental Hygiene Program on the IU South Bend campus offers clinical services to students and the community during the academic year and first summer session.
The available schedule is based on the academic calendar. The schedule opens approximately two months before the start of the clinical semester. Due to the limited availability of appointment times, the schedule often fills quickly. Appointments are 4-hours in length the provide an educational experience for the student dental hygienists.
These services include
dental examination
dental prophylaxis (scaling and polishing of teeth)
caries preventive treatments (application of fluorides)
periodontal treatment (treatment of minor gum disorders)
diagnostic dental X-ray films
oral hygiene education
All treatment is rendered by qualified dental hygiene students under the supervision of a licensed dental professional. Call (574) 520-4156 for an appointment.
The clinic is closed when the semester is not in session.
---
Photo credit | Peter Ringenberg