Bachelor of Science in Education/Elementary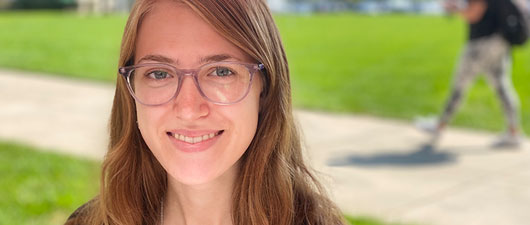 Pictured | Sarah Sass | Bachelor of Science in Education, Elementary Education, Early Childhood / Minor in History | New Carlisle, Indiana (hometown)
---
Bachelor of Science in Education / Elementary Education
The IU South Bend School of Education offers a Bachelor of Science in Education/Elementary Education. The Elementary Education program provides coursework and field experiences to prepare future teachers to meet the needs of students in today's schools. The program is designed to prepare teacher education candidates to teach children in kindergarten through six grade.  

Elementary Education candidates are generalists. They take a variety of content courses, professional foundation courses, and method courses to meet the content areas taught in the elementary schools.
---
Academic Advising
College policy on advising requires that students meet with their academic advisors at least once each year, and in some departments, prior to each semester's to enrollment. Advising holds are placed on all School of Education students prior to advance registration and are released following advising appointments. Students with a declared major are advised in their academic units. To determine who your advisor is and how to contact them, see One.IU.
---
Degree Requirements (120 cr.)
Students receiving the Bachelor of Science in Education, Elementary Education must complete 120 total credit hours including:
---
An overall GPA of 2.75 is required for admission into the Teacher Education Program (TEP). 
Students must successfully complete EDUC-F 201/202, EDUC-H 340, EDUC-K 205, EDUC-M 311, EDUC-P 250, EDUC-Q 200, EDUC-W 200, and EDUC-W 310.
All courses are 3 credits, unless otherwise noted
---
Professional Education Requirements (75 cr.)
COAS-Q 110 Introduction to Information Literacy (1 cr.)


Fullfills Additional Requirements: Information Literacy requirement

EDUC-E 325 Social Studies in the Elementary Schools
EDUC-E 327 Social Studies Methods and the Family: Focus on Young Children
EDUC-E 328 Science in the Elementary Schools
EDUC-E 343 Mathematics in the Elementary Schools
EDUC-E 370 Language Arts and Reading I
EDUC-E 371 Language Arts and Reading II
EDUC-K 205 Introduction to Exceptional Children
EDUC-K 305 Teaching the Exceptional Learner in the Elementary School
EDUC-K 452 Classroom Management 
EDUC-M 101 Laboratory/Field Experience (2 cr.)
EDUC-M 301 Laboratory/Field Experience (2 cr.)
EDUC-M 311 General Methods for the Kindergarten and Elementary Teacher
EDUC-M 359 Health and Wellness for Teachers (2 cr.)
EDUC-M 401 Laboratory/Field Experience (2 cr.)
EDUC-M 420 Student Teaching Seminar (2 cr.)
EDUC-M 425 Student Teaching: Elementary (5 cr.)
EDUC-M 425 Student Teaching: Elementary (5 cr.)
EDUC-Q 200 Introduction to Scientific Inquiry
EDUC-W 310 Integrating Technology K-12
GEOL-N 190 The Natural World
HIST-H 105 American History I
MATH-T 101 Mathematics for Elementary Teachers I
MATH-T 103 Mathematics for Elementary Teachers III
PHYS-T 105 Physical Science for Elementary Teachers
PSY-P 316 Psychology of Childhood and Adolescence
---
Concentration Requirements (12 cr.)
Elementary education candidates are expected to complete courses leading to a concentration. Currently, candidates can complete a concentration/minor in Early Childhood Education or English Language Learners.
Select one of the following concentrations:
---
Early Childhood (with Certification)(18 cr.)
6 cr. Fulfilled by Professional Education Requirements
EDUC-E 317 Practicum in Early Childhood Education
EDUC-E 327 Social Studies Methods and the Family: Focus on Young Children


Fulfilled by Professional Education Requirements

EDUC-E 330 Infant Learning Environments;

AND


EDUC-M 101 Laboratory/Field Experience (0 cr.)
EDUC-E 333 Inquiry in Mathematics and Science
EDUC-E 335 Introduction to Early Childhood Education
EDUC-E 370 Language Arts and Reading I


Fulfilled by Professional Education Requirements
---
English Language Learners (ENL with Certification) (27 cr.)
15 cr. Fulfilled by Professional Education Requirements
EDUC-E 370 Language Arts and Reading I


Fulfilled by Professional Education Requirements

EDUC-E 371 Language Arts and Reading II


Fulfilled by Professional Education Requirements

EDUC-K 452 Classroom Management


Fulfilled by Professional Education Requirements

EDUC-H 340 Education and American Culture


Fulfilled by Professional Education Requirements

EDUC-L 436 Methods and Materials for Teaching English as a Second Language; AND
EDUC-M 401 Laboratory/Field Experience (1 cr.)
EDUC-L 482 Student Teaching- English as a Second Language (5 cr.)
EDUC-P 407 Psychological Measurement in the Schools
EDUC-X 470 Psycholinguistics for Teachers of Reading
---
Special Education (28 cr.)
16 cr. Fulfilled by Professional Education Requirements
EDUC-K 205 Introduction to Exceptional Children


Fulfilled by Professional Education Requirements

EDUC-K 305 Teaching the Exceptional Learner in the Elementary School


Fulfilled by Professional Education Requirements

EDUC-K 345 Academic and Behavioral Assessment of the Mildly Handicapped Child
EDUC-K 362 Team Approaches to the Education of Students with Disabilities


Fulfilled by Professional Education Requirements

EDUC-K 370 Introduction to Language and Learning Disorders
EDUC-K 452 Classroom Management
EDUC-K 480 Student Teaching in Special Education
EDUC-M 420 Student Teaching Seminar (2 cr.)
EDUC-M 425 Student Teaching: Elementary (7 cr.)