Bachelor of Arts in Theatre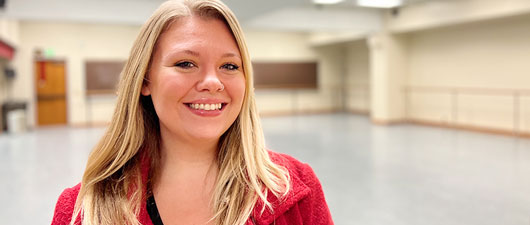 Pictured | Natasha Collins | Bachelor of Arts in Theatre / Minor in English | South Bend, Indiana (hometown)
---
Bachelor of Arts in Theatre
The Bachelor of Arts (BA) in Theatre gives students a broad acquaintance and experience with the various ways theatre artists study, interpret, and articulate the world in which we live.
---
Academic Advising
College policy on advising requires that students meet with their academic advisors at least once each semester, prior to that semesters enrollment period. Advising holds are placed on all Ernestine M. Raclin School of the Arts students prior to advance registration and are released following advising appointments. Students with a declared major are advised in their academic units. To determine who your advisor is and how to contact them, see One.IU.
---
Theatre Upper-Divisional Review
All students are considered pre-Bachelor of Arts students until they pass an upper-divisional review. Students are expected to successfully complete this review at the earliest possible point in their academic careers. Once students earn between 50 and 60 credit hours they are scheduled for their upper-divisional review, which must be undertaken at this time.
Please choose from one of the following options that best represents your academic and career-focus for this review.  This choice should be made in consultation with your advisor: 
Two contrasting monologues (one classic, one contemporary)
One contemporary monologue and one 32 bar audition cut of a golden age or contemporary musical theatre song.
One contemporary or classic monologue and one 45 second, self-choreographed dance piece.
A Portfolio presentation of your design and/or technical work to date.
A Portfolio presentation of your design and/or technical work to date and one monologue or song (following guidelines above).
Notes
In addition, all students will participate in an interview with faculty.
The audition/interview should show breadth (work in all the areas that a student has studied) and quality (a careful selection of the best work in the student's area of concentration). The faculty expects to see work that demonstrates ability and improvement.
The faculty expects students to present their work in good condition and in a manner that expresses their personal development, course of study, or academic goals. For the interview, students are expected to have outlined their achievements so far and goals for the future, as well as to address any faculty questions.
At the conclusion of the upper-divisional review, the faculty will discuss students' progress.

 

Passing the upper-divisional review will officially transition the student to the BA Theatre degree.

 

In certain cases, the faculty may decline to accept a student into the degree programs, if the quality of either their classroom or studio work is deemed insufficient. A student may attempt to pass upper-divisional review only two times. Each hearing counts as one attempt; failure to meet provisions within a specified time counts as one attempt. Failure to attend a scheduled review counts as one attempt.
A student can elect to request an upper-divisional review earlier in their educational journey. This must be communicated by the seventh week of the semester to the student's academic advisor. 
For further questions about this review process, please see your academic advisor or reference the Theatre and Dance Student Handbook.
---
Degree Requirements (120 cr.)
Students receiving the Bachelor of Arts in Theatre degree must complete 120 total credit hours including:
---
At least 30 credit hours just be at the 300– or 400–level
Minimum Major GPA of 2.0
Requirement of one academic minor outside of the Department of Theatre and Dance
Reviews at the end of each spring semester
Successful participation in at least one production per enrolled semester in the co-curricular production season.
BA students must declare their intent to focus on either performance

 

or design and technical production by the end of their first semester of matriculation.

 

Courses required for the major must be completed with a grade of C- or higher.
All courses are 3 credit hours, unless otherwise noted.
---
Theatre Core (40 cr.)
THTR-T 120 Acting One: Fundamentals of Acting
THTR-T 225 Stagecraft 1
THTR-T 230 Costume Technology I
THTR-T 340 Directing I: Fundamentals of Directing
THTR-T 341 Theatre Production I (2 cr.)


Taken three times total (Semesters 1, 2, and 3)

THTR-T 342 Theatre Production II (2 cr.)


Taken three times total (Semesters 4, 5, and 6)

THTR-T 343 Theatre Production III (2 cr.)


Taken two times total (Semesters 7 and 8)

THTR-T 405 Stage Management 
THTR-T 470 History of the Theatre 1
THTR-T 471 History of the Theatre 2
Select one from the following:
THTR-T 326 Introduction to Scenic Design
THTR-T 335 Stage Lighting Design
THTR-T 339 Introduction to Costume Design
---
Concentration (26 cr.)
THTR-A 190 Art, Aesthetics, and Creativity
VT: Introduction to Theatre
THTR-T 102 Acting Ensemble for Directing (1 cr.)
THTR-T 220 Acting II: Scene Study 
THTR-T 327 Period Styles
THTR-T 434 Historic Costumes for the Stage
Select two from the following (6 cr.)
THTR-T 249 Drafting and Color Media
THTR-T 326 Introduction to Scenic Design
THTR-T 332 Scene Painting
THTR-T 335 Stage Lighting Design
THTR-T 339 Introduction to Costume Design
THTR-T 413 Acting: Period Perfomance Styles


Pending final approval

THTR-T 424 Stagecraft 2
THTR-T 430 Costume Technology II
Select one from the following (3 cr.)
THTR-T 402 The Business of Acting
THTR-T 449 Profession of Theatre Design
---
Dance Techniques (4 cr.)
Select two from the following:
THTR-D 110 Social Dance (2 cr.)
THTR-D 111 Introduction to Latin Dance (2 cr.)
THTR-D 115 Modern Dance I (2 cr.)
THTR-D 120 Ballet I (2 cr.)
THTR-D 130 Flamenco I (2 cr.)
THTR-D 135 African Dance 1 (2 cr.)
THTR-D 140 Jazz Dance I (2 cr.) 
THTR-D 150 Middle Eastern Dance I (2 cr.)
THTR-D 170 Tap I (2 cr.)
THTR-D 215 Modern Dance II (2 cr.)
THTR-D 220 Ballet II (2 cr.)
THTR-D 230 Flamenco Dance II (2 cr.)
THTR-D 240 Jazz Dance II (2 cr.)
THTR-D 250 Middle Eastern Dance 2 (2 cr.)
THTR-D 270 Tapp II (2 cr.)
---
Additional Requirements
THTR-T 114 Theatre and Dance Symposium (0 cr.)
Required every semester of enrollment