Bachelor of Arts in Fine Arts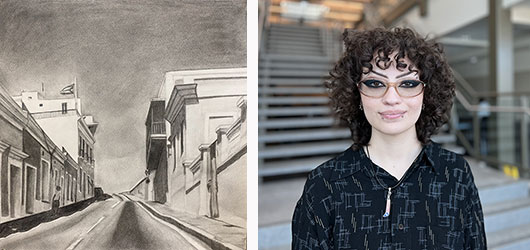 Pictured | Paula Toth-Perez | Bachelor of Arts in Fine Arts | Goshen, Indiana (hometown)
Art Credit | Paula Toth-Perez
---
Bachelor of Arts in Fine Arts
The Bachelor of Arts (BA) degree offers students a wide range of options, permitting them to combine their study in the fine arts with a well-rounded general education. Graduates of this degree program develop skills in three or more studio areas of their choice as well as a broad familiarity with the basic principles of several academic disciplines in the sciences, humanities, and social sciences.
---
Academic Advising
The Ernestine M Raclin School of the Arts policy on advising requires that students meet with their academic advisors each semester prior to registration. Advising holds are placed on all Fine Arts students prior to advance registration and are released following advising appointments. Students with a declared major in Fine Arts are advised by Fine Art faculty. Additionally, you may have a secondary adviser if you have also declared a minor, although a minor is not required for a degree in the Fine Arts department. Students can verify their assigned advisor in the student center in One.IU.
---
Degree Requirements (120 cr.)
Students receiving the Bachelor of Arts in Fine Arts degree must complete 120 total credit hours including:
---
A minimum of 30 credit hours at the 300– or 400–level.
Courses required for the major must be completed with a grade of C– or higher.
A minimum GPA of 2.0 is required.
All courses are 3 credit hours, unless otherwise stated.
---
Major Requirements (48 cr.)
Foundation Level (15 cr.)
It is recommended that students complete the following classes during the first two years of study:
AHST-A 101 Ancient and Medieval Art
AHST-A 102 Renaissance Through Modern Art
FINA-F 100 Fundamental Studio–Drawing
FINA-F 101 Fundamental Studio–3D
FINA-F 102 Fundamental Studio–2D
---
Upper-level Requirements (33 cr.)
Art History (9 cr.) | Select three courses (must be) at the 300– or 400–level (9 cr.)
Studio (24 cr.) | Select eight courses (at least 24 credit hours) above the 100–level. Three courses must be at the 300– or 400–level. These courses must be distributed among at least three different studio areas; 300–level courses may be taken twice for credit and some 400–level studio courses may be taken three times for credit. No more than 45 studio credit hours above the 100–level are counted toward graduation.
---
Additional Requirements (17 cr.)
World Languages (6 cr.) | Select two courses in one world language (Chinese, French, German, Japanese, or Spanish)
Natural Science (5 cr.) | Select from life sciences, chemistry, physics (must include a laboratory)
Social Science (3 cr.) | Select from anthropology, economics, geography, political science, psychology, or sociology
Arts Outside of Major (3 cr.) | Select one course from communication studies, graphics, music, new media, or theatre
---
Electives (16 cr.)
Nine credits must be at the 300– or 400–level.