Minor in Media, Culture, and Society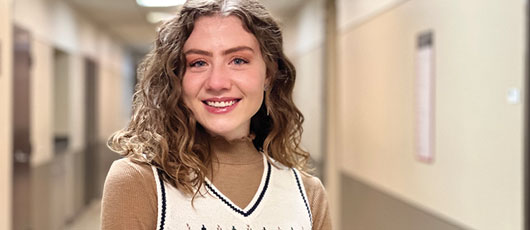 Pictured | Hope Mramor | Bachelor of Arts in Communication Studies, Media, Society, and Culture | Granger, Indiana (hometown)
---
Minor in Media Culture and Society
The minor in Media Culture and Society emphasizes the historical and cultural analyses of media. Students will critically examine the relationships between media, society and power. In this minor, students analyze media representations, audience interpretations, and the impact of media on society.
Students must complete all requirements in the minor with a grade of C- or higher.
All courses are 3 credits, unless otherwise noted.
---
Minor Requirements (15 cr.)
COMM-C 200 Introduction to Mass Communications
JOUR-J 410 Media as Social Institutions
TEL-R 287 Processes and Effects of Mass Communication
Select two from the following:
JOUR-J 300 Communication Law
JOUR-J 475 Race, Gender, and the Media
SPCH-S 427 Cross Cultural Communication
TEL-R 404 Topical Seminar in Telecommunications
TEL-T 313 Comparative Media Systems