Excellence in Academic Programs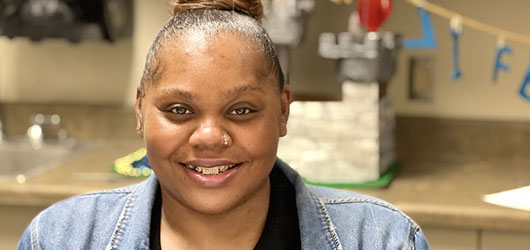 Pictured | Chyna McBride | Bachelor of Science in Nursing | South Bend, Indiana (hometown)
---
Excellence in Academic Programs
Distinctiveness in Degree Offerings
Since its founding, IU South Bend has provided strong programs in the liberal arts and sciences complemented by professional education responsive to community needs. IU South Bend trains the majority of the region's teachers and many of its civic and business leaders. The Ernestine M. Raclin School of the Arts is home to acclaimed programs in music, sculpture, and the fine and performing arts that attract world-class faculty and talented students. The combination of cutting-edge clinical facilities, faculty preparation, and unique curricular offerings at IU South Bend offers opportunities for students of nursing and the health professions from across the state to access a distinct educational experience.
---
Distinctiveness in Faculty-Student Collaboration
Because of its student-to-faculty ratio (15:1) and small class size, IU South Bend is uniquely able to provide active and collaborative partnerships between students and faculty in the classroom, in the laboratory, and in the field.
---
Distinctiveness in Enhancing Diversity and a Global Perspective
A growing population of underrepresented and international students, supported by a wide array of programs, provides an important dimension to a campus community committed to understanding diversity and world cultures.